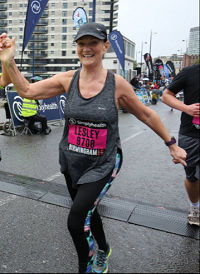 Hi, my name is Lesley and I've worked for Reynolds and Reynolds for nearly 43 years.

A little more about me...

I was born in Birmingham, I work in Birmingham and I live in Birmingham so I haven't ventured that far really. That being said, I have really enjoyed travelling to many other countries for my holidays over the years. I have always been an active type of person, and more recently taking up many challenges that I thought I'd never be able to achieve, such as running the Birmingham Half Marathon (and in the rain).

Lesley started with the 'Couch to 5K' for MIND, then a 10K for St Mary's Hospice, followed by the Wolf Run and the half marathon for Cancer Research. In addition to this, she has many more planned including the BRUM 10K as part of the Reynolds and Reynolds team, a 10K run from Warwick Castle to Kenilworth Castle, the Spitfire 10K at Cosford Airfield in between the planes and the Yorkshire 3 Peaks Challenge for the Red Cross.
What is your current job role and how long have you worked for Reynolds?
I have worked here for 42 years this October, covering many roles such as Customer Support and Training. I currently work in the Change Management Department as a System Tester and carry out Quality Assurance testing on our products including POWER and its integrations with the OEMs.

Wow, that's an achievement, what's the secret to your long service?
I work with some great people, and I enjoy working closely with different departments too, in order to see developments through from start to finish.

What do you like to do in your spare time?
Oh Gosh! Eating! It's a good job I like running (:-) and belong to a club where we meet regularly for social runs. I also like gardening, walking and have started to learn how to crochet.

Tell us a little more about your volunteering with St Mary's Hospice?
I have worked as a volunteer at St. Mary's Hospice for many years, so whenever we had a running event I would always raise money for them. They do a wonderful job but rely on charitable donations so they can continue to provide the support they provide their patients and family members.

You've participated in many runs to raise money for charity, what's next on the agenda?
Wow! I have several planned events coming up but the BIG one that I'm preparing for is the Yorkshire 3 Peaks Challenge supporting the Red Cross. We aim to walk 24.5 miles in 14 hours, plenty of training required for this one I think.

Do you have a favourite holiday destination?
Not so much a holiday destination but Istanbul is so full of history. I like any holiday where the sun takes me.

Do you have a favourite restaurant or a type of food that you prefer?
I like Italian food – although to be honest – as long as it's food, I'm happy!

What is your favourite TV programme?
The Game of Thrones.

And, for the quick fire round:
Two wheels or four? Four
Apple or Android? Apple
Dog or Cat? Cat
Sun or snow? Sun
Roast or curry? Roast
Love Island or The Great British Bake-off? The Great British Bake-off