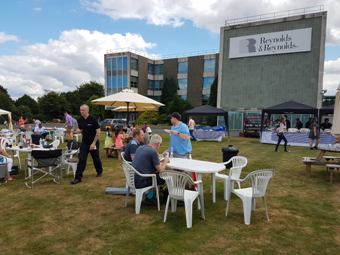 Family picnics have been a long-standing tradition since the 1920s at Reynolds and Reynolds. The events have provided a way for associates to get to know each other, and most importantly their families a little better.

Every summer, come rain or shine, the annual picnic is held on the front lawn. It is a fun packed day with great food and drink and lots of activities to keep the kids entertained, while the adults sit back, relax and enjoy a chat with their colleagues.

Associates and their families have enjoyed a wide variety of activities over the years, ranging from a game of play your cars right – hosted by John Darby in our training department to rolling around in an inflatable bubble zorb, and even donkey rides. Every year we try and make the BBQ a little special for those who attend, to make it a day to remember.
We keep the kids busy with a collection of garden games, a bouncy castle, face painter on-site, balloon modeller, and a gift from the company for all the little ones that come along, whilst the rest of the family grab a few drinks and enjoy the delights provided by Classic Catering including an array of barbecue food (including a hog roast cooked on-site), and a delicious selection of desserts.